Specimen Cutters
Medium Cutters Models L-6000/6100, L-7000/7100, L-8000/8100, and L-9000/9100
Manual Front/Back-slide Cutting Type
■Features
The manual front/back- slide cutting models have an established reputation among operators. During the cutting is performed by pulling the side handle, hardness and states of the material being cut can be felt sensitively by the response transmitted to the hand.
(The handle is a circular handle in the L-9000/9100 models.)
The spindle motor is equipped with an ammeter that lets an operator clearly know the hardness of the material being cut, the cutting quality and other load conditions.
The wide working base enables cutting of long materials.
The double-column clamping vice enables secure clamping of irregularly shaped materials and prevents burr formation and chipping during cut-off.
UD models (in which the whetstone shaft moves vertically) are also available.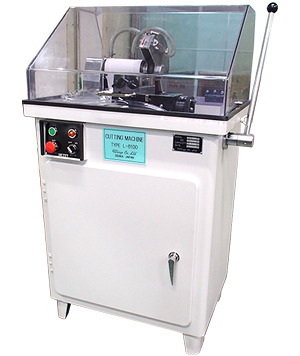 L-6100
※The safety cover is transparent.
■Product Specifications
Model
L-6000/6100
L-7000/7100
L-8000/8100
L-9000/9100
Max. Cutting Ability
55mmΦ
60mmΦ
70mmΦ
80mmΦ
Power Supply
3-phase 200/220V
   50/60Hz
3-phase 200/220V
   50/60Hz
3-phase 200/220V
   50/60Hz
3-phase 200/220V
   50/60Hz
Machine Dimensions(mm)
730W×550D×1150H
880W×620D×1200H
920W×740D×1300H
880W×850D×1360H
Spindle Motor
3-phase 1.5kw
3-phase 2.2kw
3-phase 3.7kw
3-phase 3.7kw
Spindle Speed
3,000min-1
2,800min-1
2,500min-1
2,300min-1
Whetstone


Outer diameter×Thickness×Hole diameter(mm)

230Φ×1.2×31.75Φ
255Φ×1.2×31.75Φ
305Φ×1.5×31.75Φ
355Φ×1.5×31.75Φ
Cooling Device
40W coolant pump, 25-liter tank
60W coolant pump, 30-liter tank
100W coolant pump, 60-liter tank
100W coolant pump, 80-liter tank
Vice Opening Width
Double-column clamping 55mm
Double-column clamping 65mm
Double-column clamping 80mm
Double-column clamping 100mm
Horizontal Vice Movement
Fixed/50mm
Fixed/70mm
Fixed/70mm
Fixed/80mm
Machine Weight
Approx. 180kg
Approx. 220kg
Approx. 280kg
Approx. 300kg
| | |
| --- | --- |
| ※ | The vice is fixed in models L-6000, L-7000, L-8000, and L-9000. |
| ※ | The vice is horizontally movable in models L-6100, L-7100, L-8100, and L-9100. |
| ※ | Front/back-slide cutting is performed with a circular handle in models L-9000/9100. |