Specimen polishers
The L-1000, L-2000, L-3000 and L-5000 Series of system polishers are fully equipped with a widely applicable set of attachments that are culminations of our software aspects of specimen polishing technologies for applications from metal and non-metal preparations to mirror polishing of ceramic and semiconductor materials as well as petrological and medical specimens. Tabletop and floor-based models are available.
Fixed Speed System Polishers L-1000 Series
Fixed speed models of 100min-1 or 200min-1 at 50Hz or 120min-1 or 240min-1 at 60Hz.
Attachments can be mounted.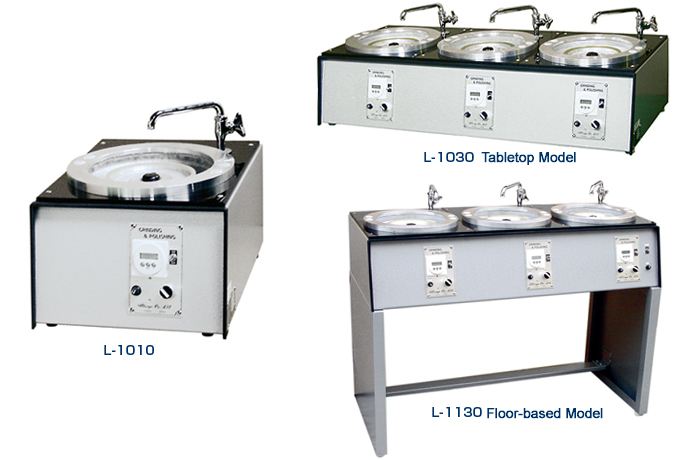 ■L-1000 Series polisher Specifications
Model
Product
Rotation speed (at 60Hz)
Motor output
Outer dimensions(mm)
Weight
L-1000
8" single-axis tabletop model
100/120min-1
1-phase 100V·200W
(per axis)
390W×540D×405H
Approx. 29kg
L-1010
8" single-axis tabletop model
200/240min-1
390W×540D×405H
L-1020
8" two-axis tabletop model
100/120min-1 or
200/240min-1
770W×540D×405H
Approx. 58kg
L-1030
8" three-axis tabletop model
1150W×540D×405H
Approx. 87kg
L-1040
8" four-axis tabletop model
1530W×540D×405H
Approx. 116kg
L-1100
8" single-axis floor-based model
100/120min-1
1-phase 100V·200W
(per axis)
390W×540D×960H
Approx. 44kg
L-1110
8" single-axis floor-based model
200/240min-1
390W×540D×960H
L-1120
8" two-axis floor-based model
100/120min-1 or
200/240min-1
770W×540D×960H
Approx. 73kg
L-1130
8" three-axis floor-based model
1150W×540D×960H
Approx. 102kg
L-1140
8" four-axis floor-based model
1530W×540D×960H
Approx. 131kg
| | |
| --- | --- |
| ※ | Power supply: 1-phase 100/110V 50/60Hz Water supply 1/2" Water drain 1" |
| ※ | Besides the 8" (205φ) models, 9" (225φ) models are also available. |

■Standard Accessories
| | |
| --- | --- |
| ・8" (205φ) aluminum disk with hole/with fluororesin(PTFE) coating (per axis) | 1 pc. |
| ・Water supply hose (12mmφ × 3m) with joint | 1 set |
| ・Water drain hose (32mmφ × 1m) with joint | 1 set |
■Optional Items
| | |
| --- | --- |
| ・8" and 9" aluminum disks without hole | |
| ・8" and 9" paper holder rings (for adhesive-free applications) | |
| ・8" and 9" buff fastening bands (for adhesive-free applications) | |
| ・8" and 9" splash-proof covers | |
| ・8" and 9" dust-proof covers | |